Home
A Lightning-Powered Audi EV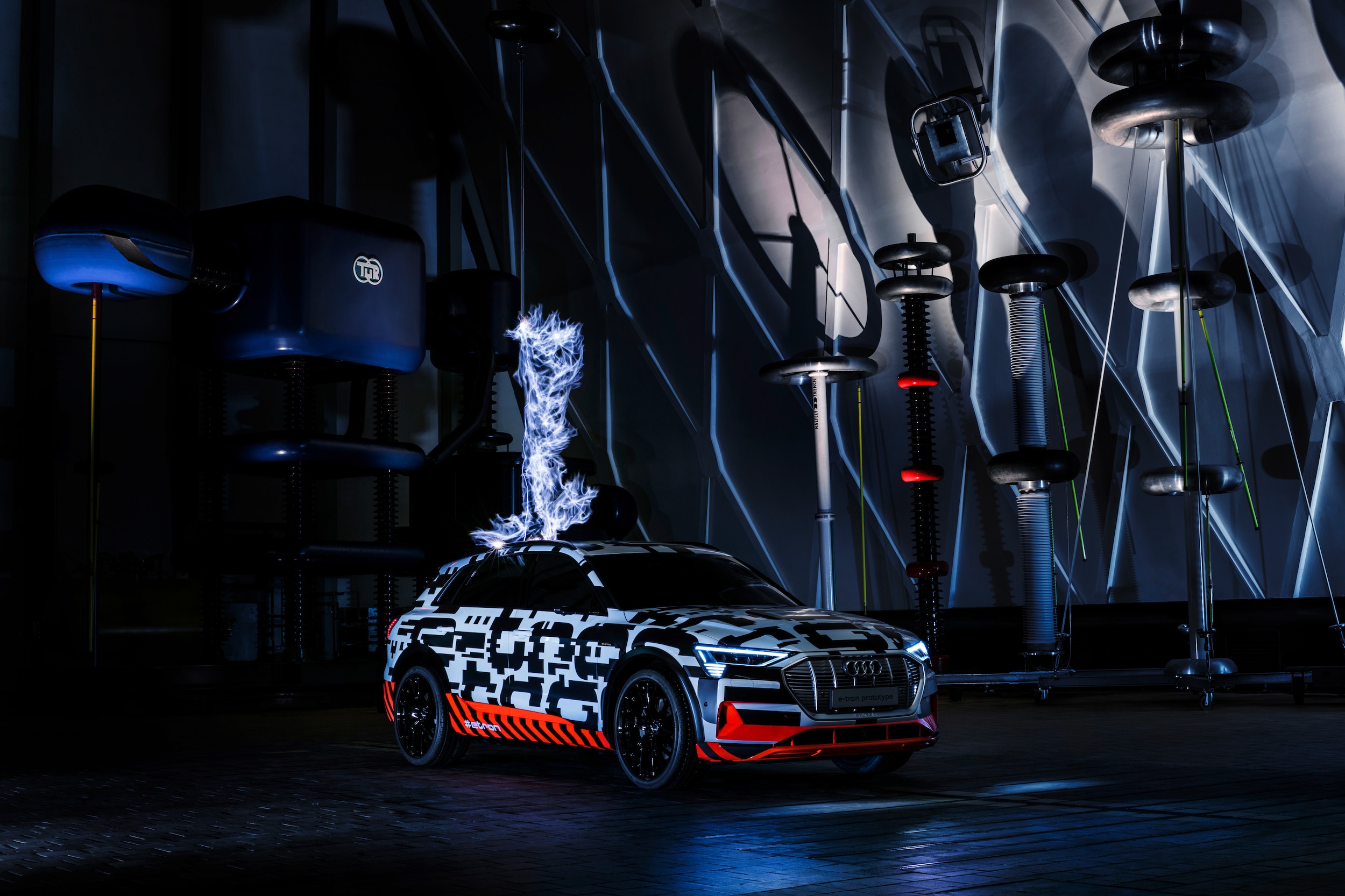 Striking a vehicle with lightning may seem to be a bit unorthodox; however, it most definitely grabs attention. That is exactly what Audi planned with their prototype reveal in Berlin, Germany at the Siemens AG facility. This flashy reveal showcased their brand new all-electric SUV prototype, known as the 2019 Audi e-tron®. Despite being struck with 400 kilowatts of electricity, the only evidence left behind was a small burn mark on the roof of the vehicle where the lightning had struck. All the internal electronics and battery were left unaffected. During this reveal, Audi showed off its unique 2019 Audi e-tron®, which is about a foot longer than a queen size bed and weighing over 1500 lbs.
When considering vehicles, especially purely electric ones like the 2019 Audi e-tron®, most people are worried about the range. Well, Audi saw the demand for this and answered, the 2019 Audi e-tron® features powerful a 95 kWh lithium-ion battery, containing 432 battery cells, that are packed by the dozen, encased in 36 battery modules. You will be able to take charge of the busy streets of Fremont, California in this impressive mid-size SUV, which has an approximate range of 250 miles per charge. This powerful battery features a variety of ways to charge your vehicle whether it is at home or on the road. At home, smart charging systems will be available in an 11 kW configuration, which will charge the vehicle in 8.5 hours, and a 22 kW configuration which can charge the vehicle in about 4.5hours; though it requires a secondary onboard charger. 2019 Audi e-tron® also will feature 150 kW charging stations that will charge the vehicle 80% in an impressive 30 minutes. These will be the first of its kind, overpowering the Tesla 120 kW charging capacity. Also, you could be the first to experience Audi's new concept for a 350 kW charging station, which will be able to rapidly recharge the 2019 Audi e-tron® battery in only 12 minutes.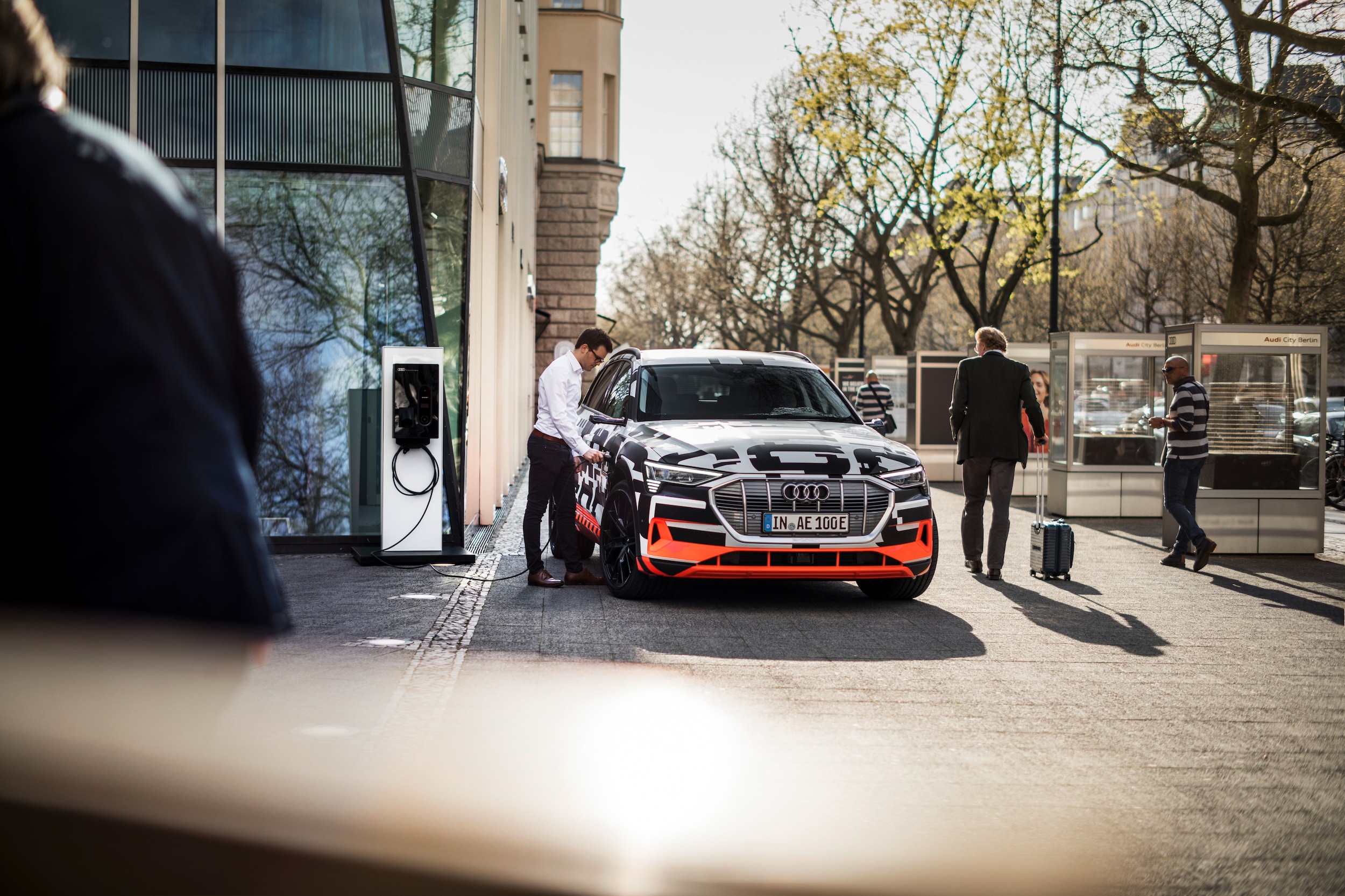 Regenerative Braking System
Be the first in Northern California to experience Audi's newly redesigned interior and regenerative braking system. This new braking system is unlike any other, attempting to maximize the efficiency of the vehicle by pairing it with their electro-hydraulic actuation braking concept and their new P.E.A. System. This system, which stands for Predictive Efficiency Assist will take data from various systems to predict braking and acceleration to ensure the efficiency and smoothness of the drive. The electro-hydraulic, or also known as a "by-wire" system is unique because it will be the first production electric vehicle on the market. What this means is the brake pedal and calipers are connected electronically, rather than mechanically, though there is a mechanical backup in case a discrepancy is detected. This design allows the driver to engage the brakes faster and can even shorten stopping distances by up to 20%. That's not all though, Audi uses its regenerative braking system previously seen on the Audi A3 and improved it. This system turns kinetic and heats energy from slowing down without having to use the brake to charge its battery, which improved the A3 fuel economy by 3%, whereas on the e-tron®, it improved its battery range by almost 30%. This regenerative brake system has various levels of deceleration to allow a fully customizable and personalized driving experience. The first level, level 0, has minimal deceleration, so when you lift your foot off the accelerator, the vehicle will glide like normal; however, will barely recharge the battery. The second level, level 1, has light deceleration so when your foot is lifted off the pedal, the vehicle will start to decelerate allowing the battery to charge. The last level, level 2, will have high deceleration, causing the vehicle to slow down faster, allowing for one pedal driving, this level is the most efficient mode, allowing for the highest amount of potential for energy to be regained.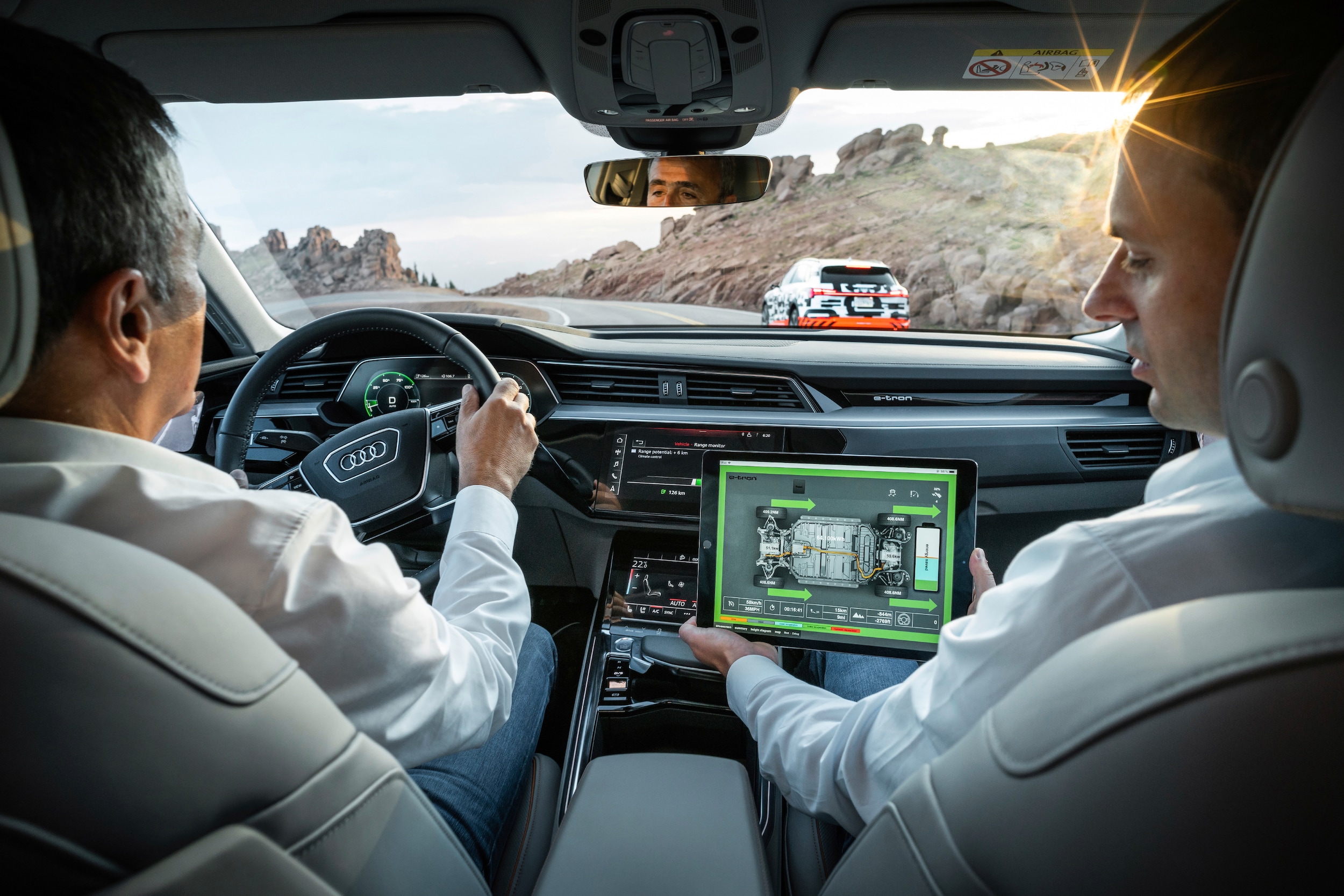 Audi decided to put this regenerative braking to the test by returning to the famous Pikes Peak where they had set a world record back in 1987 during the world's best-known hill climb race, known as the "Race to the Clouds" in Colorado. This time, instead of racing to the summit, Audi wanted to see just how far they could push their redesigned regenerative braking system. The results were even better than they ever expected. The drivers reported that for every kilometer they drove down the peak, they had regained almost another kilometer in power. Not only did they regain that much power, but the brakes were also barely even used at all during the descent. One of the drivers claimed that the number of they had to use the brake "could almost be counted on one hand."
Though you may not be summiting peaks daily, you will most definitely be turning heads in the San Francisco Bay area and amongst others. The 2019 Audi e-tron® features a base of 355 horsepower from two separate electric motors, one located on each axle, providing the vehicle with 413 pounds per foot of torque. However, Audi included a "Boost" mode where momentarily allows the vehicle to show it's true power peaks its performance to 402 horsepower and 489 pounds per foot of torque, allowing it to reach 0-60 mph in just under 6 seconds. This doesn't necessarily bother Audi though, acceleration isn't their focus, rather they are about pushing the limits of what their vehicles can do, which is exactly what the 2019 Audi e-tron® does.
You could be the one to lead the charge of Audi's electric vehicle campaign.
Reserve your 2019 Audi e-tron® today, or you can call us at .