Home
Fletcher Jones Supports the USC Racing Team
UPDATE: Fletcher Jones Motorcars and Audi Fletcher Jones donated over $11,000 in support of the USC Racing Team during the 4th of July Sales Event.
Fletcher Jones Motorcars and Audi Fletcher Jones are proud to support the USC Racing Team! During our 96-Hour, 4th of July Sales Event, we will be donating $100 for every vehicle sold from July 4-7, 2019. Plus, their racecar will be on display along with their team members at Fletcher Jones Motorcars.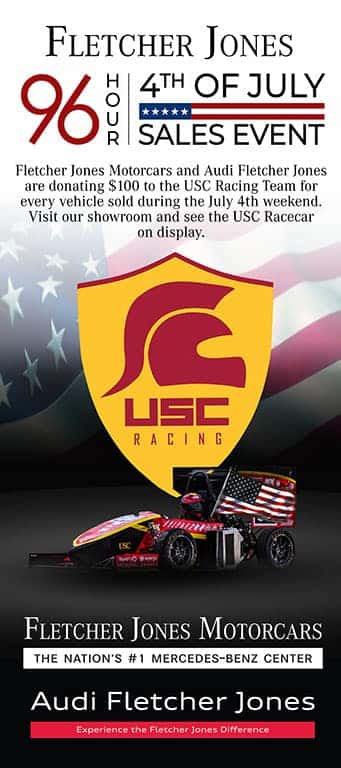 About USC Racing
This entirely student-run organization designs, constructs, tests, and races their high-performance autocross racecars. Every year they have the opportunity to construct a new racecar to compete against universities across the world. During this competition they conduct cutting edge research and analysis with students manufacturing their own vehicle. Not only do they race, but they also put together and present a business case for their car to a panel of judges in the industry.
USC Formula SAE is proud to encourage students to apply in class theories to the real world, resulting in some of the most desirable students in the country. They are an organization similar to Fletcher Jones, which promotes team spirit, leadership, creativity, and dedication.
Learn More About the USC Racing Team
Visit Fletcher Jones
Ready to drive away in the Mercedes-Benz or Audi of your dreams? Now is the perfect time! Shop our large selection today!